Simultaneous interpretation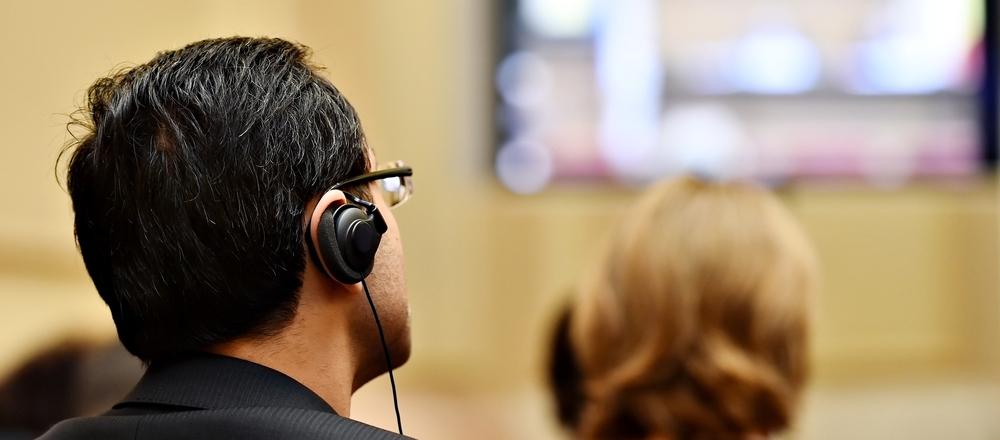 Simultaneous interpretation
When organizing conferences, events, there is often a need for simultaneous translation. The easiest solution for the transfer is to use a radio guide system.
The radio guide system consists of a transmitter with a microphone for the translator and receivers with earphones for the listeners of the translation. The system supports 99 channels. Thus, several translators can work with different groups simultaneously in one room. For this, each translator needs a separate transmitter, for the listener and the receiver must work on the same channel as its translator. You can connect any number of receivers to the transmitter, there are no restrictions.
The transmitter and receivers are automatically connected to each other after the devices are turned on. No additional settings are required.
The equipment works perfectly at a distance of up to 70 meters. The radio guide system operates on the radio frequency VHF 195-230 MHZ.
Mobile communications, wi-fi, other communications don't interfere the radio guide systems' work.
The operating time of the receiver without recharging is up to 40 hours, the transmitter – up to 17 hours. If the device is completely discharged, it takes up to 5 hours to charge it.
Two kinds of microphones are included with the transmitter. Headphones are included with each receiver.
The volume is adjusted on the devices, it is possible to switch to the "Silent" mode.
The radio guide system is simple and convenient to use and has a very modern look. Thus, your guests will be able to further appreciate the prestige and thoughtfulness of your company.
In our company you can rent or purchase a set for any number of receivers, based on your needs.
The equipment for simultaneous interpretation is successfully used for conferences, seminars, presentations, exhibitions and training events. Our company will help you find the right set of equipment for your event in the best way.
Equipment for your industry